Karl Maughan
$80.00 NZD - $410.00 NZD
KARL MAUGHAN
This delightful mini-Maughan invites you into its inversed parallel garden utopia. Unusual in size for a Maughan print, the work presents a captivating Alice in Wonderland type garden, inspiring all sorts of imaginings.
A beautiful explosion of colour, this sweet treat is a perfect addition to the bedroom wall of any art collecting tiny human, or conversely, for that little nook in the home that needs some sunshine.
Specially crafted for Art Ache, the original painting of which this is based is aptly named Refuge – as Karl and his Auckland dealership, Gow Langsford, will be gifting all their proceeds from sales of this work to the Eastern Refuge Socitey – Women's Refuge, to aid them in the amazing work they do for our community.
"Karl Maughan's name has become synonymous with landscape painting and his works are highly sought after by public and private collectors. His most recent works are saturated with colour, the thick impasto like painting technique gives his works a three-dimensional effect as if his flora and fauna were bursting from the canvas" – Gow Langsford Gallery.
More about Karl Maughan.
Artwork is printed on Ilford Smooth Cotton Rag 310gsm, with Archival Inks by Fine Art printer Sanji Karu at Skar Image Lab
Paper size: A4 (297 x 210mm).
This archival print has been created with authority of Karl Maughan.
Estimated delivery date 4 weeks from ordering.
This print is limited to 100 reproductions and comes with a signed Art Ache Certificate of Authenticity.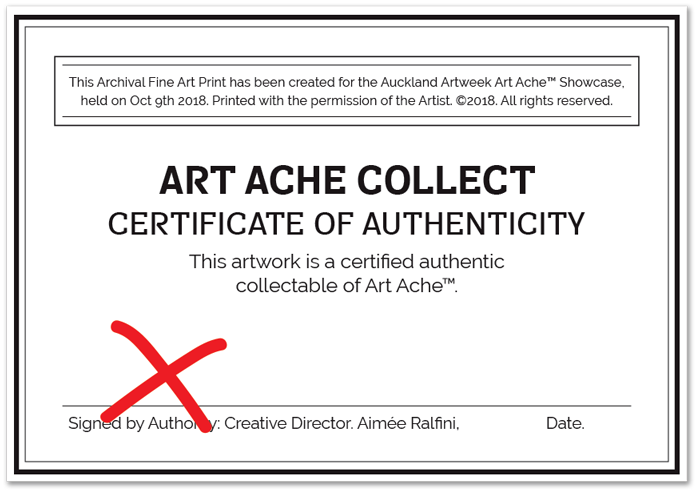 Art Ache Collectables Pricing structure:
Event Period: $60.00 each
Usual Price: $80.00 each – Current
30 prints left: $150.00
5 Prints left: $300.00