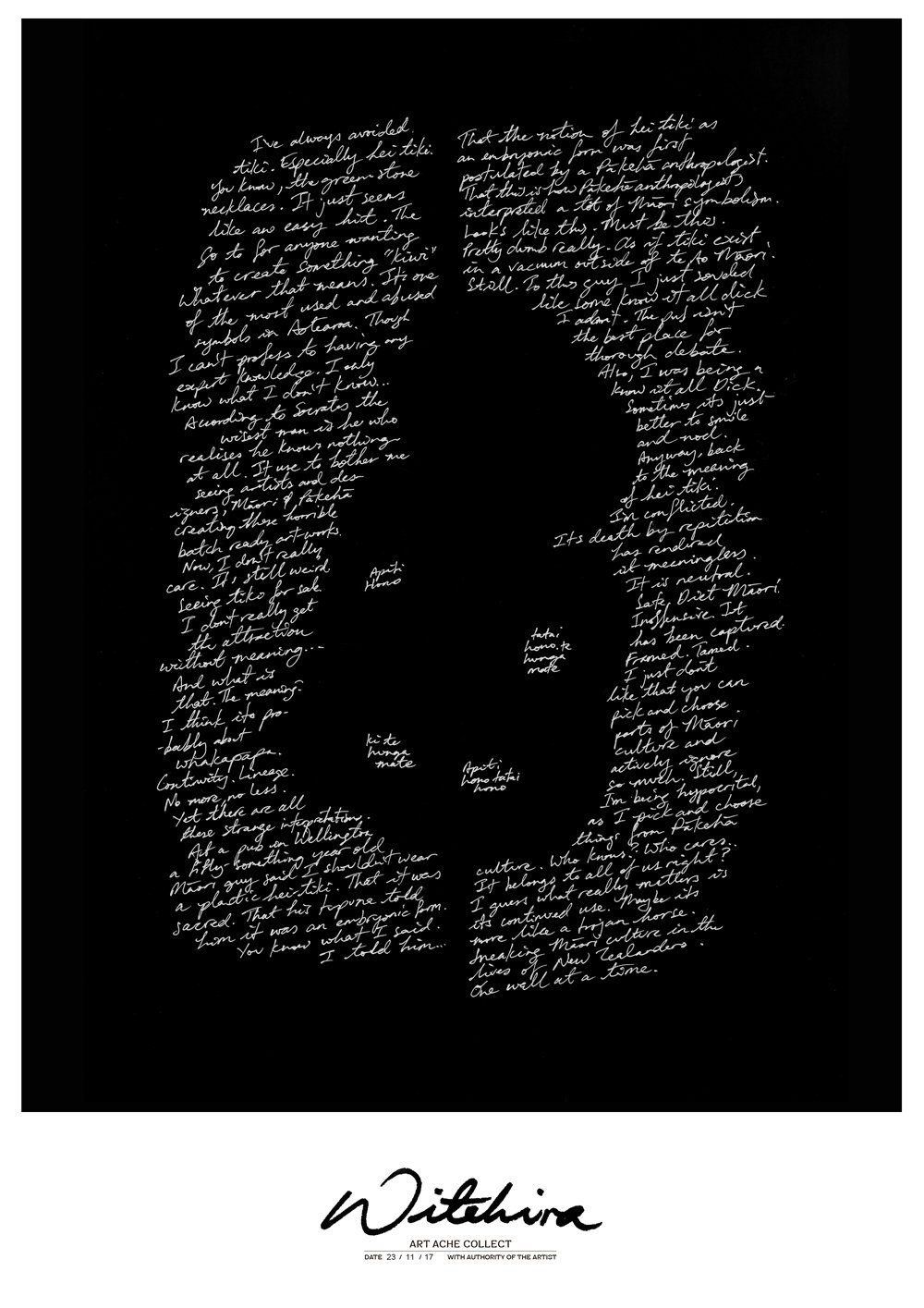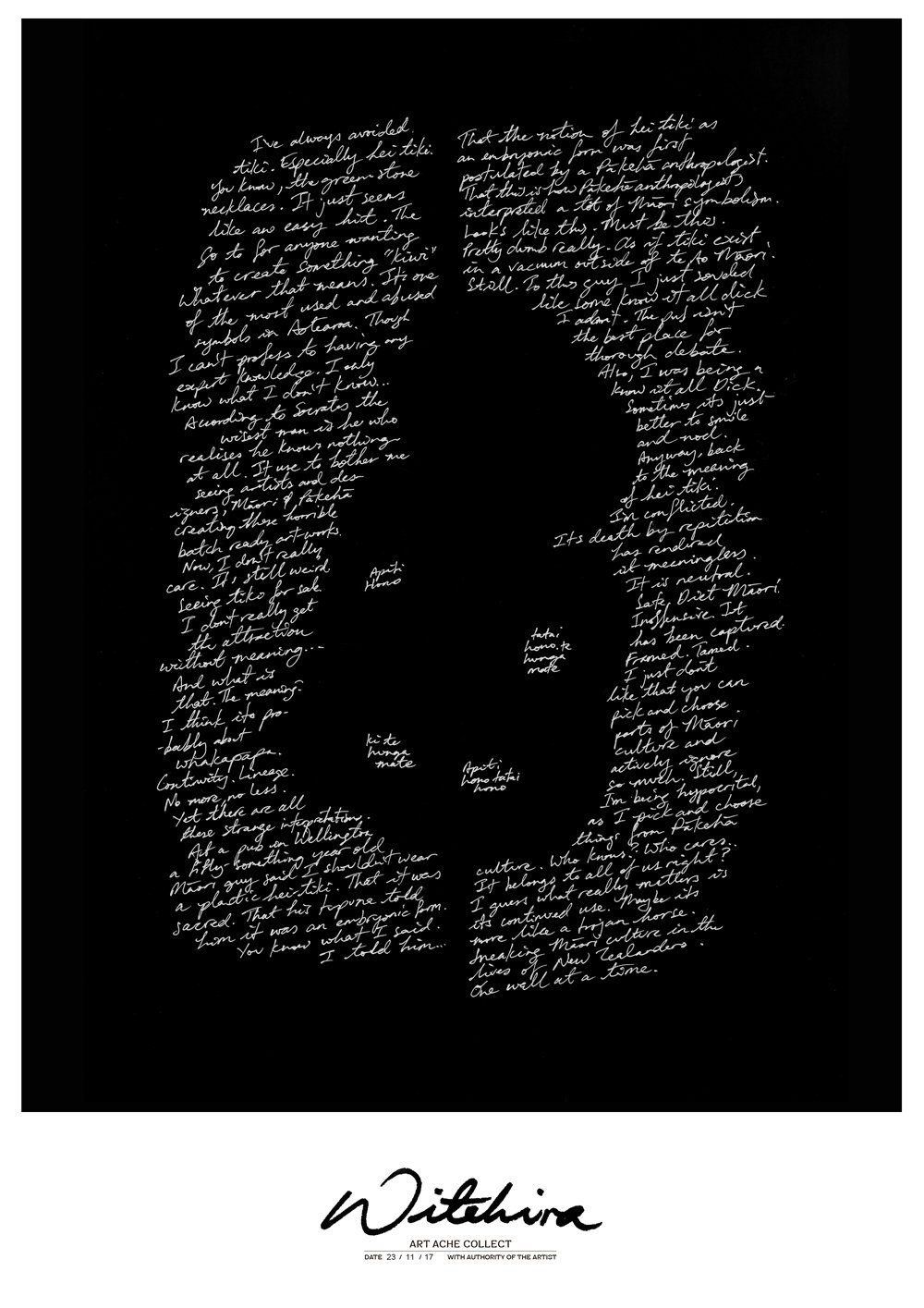 Johnson Witehira
$80.00 NZD - $100.00 NZD / Sold Out / On Sale
JOHNSON WITEHIRA
Auckland-based Johnson Witehira has a Masters in Graphic Design and a PhD in Māori Visual Arts, through which he has developed a platform for contemporary Māori design practice. He is passionate about and making Māori design a part of everyday lives
One of our strongest contemporary Māori creatives' currently working within the country. His modernization of Maori symbology has been stylistically developed through his exploration of traditional carving. The subject of his work often explores his culturally diverse heritage and decolonisation. Culminating in work that is not only stunningly bold and fresh but also full of heart and humour.
Artist's website: madebyjohnson.co.nz
Artwork is printed on Ilford Smooth Cotton Rag 310gsm, with Archival Inks by Fine Art printer Sanji Karu at Skar Image Lab
Paper size: A4 (210 × 297mm).
This archival print has been created with authority of Johnson Witehira.
Estimated delivery time 4 weeks from purchase.
Each Artwork comes with a certificate of authenticity.
Each artist was asked to create an artwork about tiki, and what it means to them, especially for the event.
Artist statement on their artwork:
Witehira's Kore Tiki artwork is both a visual and textual response to the the shows tiki theme. In this work Witehira ponders the use of tiki within his own practice and the wider public sphere of Aotearoa New Zealand. The text from his artwork read as follows:
Apiti Hono, tātai hono
Te hunga mate, ki te hunga mate
Apiti Hono, tātai hono
Te hunga ora, ki te hunga ora
I've always avoided tiki. Especially hei tiki. You know, the greenstone necklaces. It just seems like an easy hit. The go-to for anyone wanting to create something "kiwi" whatever that means. It's one of the most used and abused symbols in Aotearoa. Though I can't profess to having any expert knowledge. I only know what I don't know…According to Socrates the wisest man is he who realises he knows nothing at all.
It use to bother me seeing artists and designers, Māori and Pākehā creating these horrible batch ready artworks. Now I don't really care. It's still weird seeing tiki for sale. I don't really get the attraction without meaning…
And what is that meaning? I think its probably about whakapapa. Continuity. Lineage. No more, no less.
Yet there are all these strange interpretations.
At a pub in Wellington, a fifty-something-year-old Māori guy said I shouldn't wear a plastic hei-tiki. That it was sacred. That his tūpuna told him it was an embryonic form. You know what I said, I told him…the notion of hei-tiki as an embryonic form was first postulated by a Pākehā anthropologist. That this is how Pākehā anthropologists interpreted a lot of Māori symbolism. Looks like this. Must be this. Pretty dumb really. As if tiki exist in a vacuum outside of te Ao Māori. Still. To this guy, I just sounded like some know it all dick. I admit that wasn't the best place for thorough debate.Also, I was being a know it all Dick. Sometimes it's just better to smile and nod.
Anyway, back to the meaning of hei tiki. I'm conflicted. Its death by repetition has rendered it meaningless. It is neutral, safe, diet Māori. Inoffensive. It has been captured, framed, tamed. I just don't like that you can pick or choose parts of Māori culture and actively ignore so much. Maybe I'm being hypocritical. I pick and choose things from Pākehā culture, but it doesn't feel the same. Who knows? Who cares. It belongs to all of us right?
I guess what really matters is it's continued use. Maybe it's more like a Trojan horse. Sneaking Māori culture in the lives of New Zealanders. One wall at a time.
– Johnson Witehira 2017