Full series for the fully serious
$540.00 NZD
ART ACHE FULL SET 09.10.18
For the serious collector who loves Art Ache and all it stands for (manifesto) this is the ultimate way to impress your mates, support the artists involved and potentially gloat about your wise investment in years to come.
It is also an exquisite collection of artworks, curated from carefully selected artists who illuminate a positive pathway forward in both the way they work and the artwork they produce. This collection stands as a moment in time of our collective history as part of our New Zealand story.
Artist updates will be flowing through the Art Ache website in coming days. So please subscribe if you'd like to keep abreast of activities.
Artworks are printed on Ilford Smooth Cotton Rag 310gsm, with Archival Inks by Fine Art printer Sanji Karu at Skar Image Lab
Paper size: A4 (297 x 210mm).
These archival prints have been created with the authority of Karl Maughan, Hye Rim Lee, Layla Walter, Zammia Weatherall and Evie Kemp.
Estimated delivery date 4 weeks from ordering.
Each print is limited to 100 reproductions and comes with a signed Art Ache Certificate of Authenticity.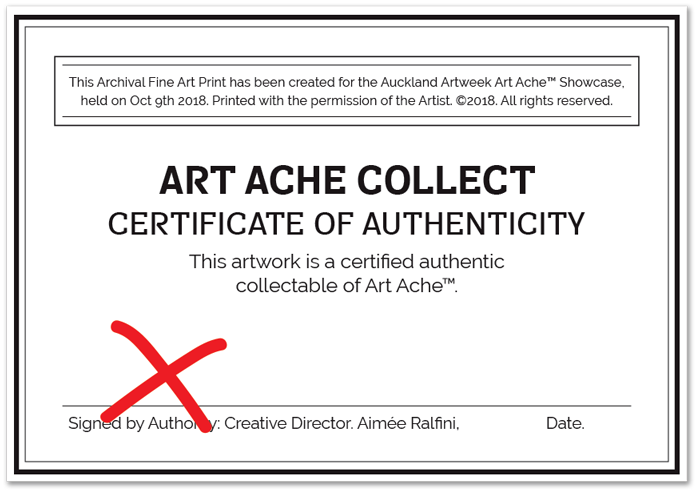 Art Ache Collectables Pricing structure:
Event Period: $60.00 each
Usual Price: $80.00 each – Current for Maughan, Weatherall and Walter
30 prints left: $150.00 – Current for Kemp and Lee
5 Prints left: $300.00