Evie Kemp
$150.00 NZD - $410.00 NZD
EVIE KEMP
An Auckland based artist, illustrator and designer Evie's creative expression branches across the world of art, graphic design, textile and spatial design.
An exceptional colourist Evie combines bright, bold colours and graphic lines throughout her work, which resides in private collections in New Zealand, Australia, Sweden, Netherlands, UK and the USA.
This Art Ache Collect work depicts an element of her ongoing series "Swept Under The Rug", handmade colourful depictions of stylised female genitalia created using the craft of Rug Hooking. Each piece is unique and instinctual and is intended as a form of portraiture, combining the ideas of traditional femininity with modern, radical feminism.
The works readdress the established depictions of female genitalia as something overtly sexual, inappropriate and shocking, and re-appropriate it as a symbol of celebration, ownership, beauty and pride.
More about Evie Kemp | Artist's website.
Artwork is printed on Ilford Smooth Cotton Rag 310gsm, with Archival Inks by Fine Art printer Sanji Karu at Skar Image Lab
Paper size: A4 (297 x 210mm).
This archival print has been created with the authority of Evie Kemp.
Estimated delivery date 4 weeks from ordering.
Each print is limited to 100 reproductions and comes with a signed Art Ache Certificate of Authenticity.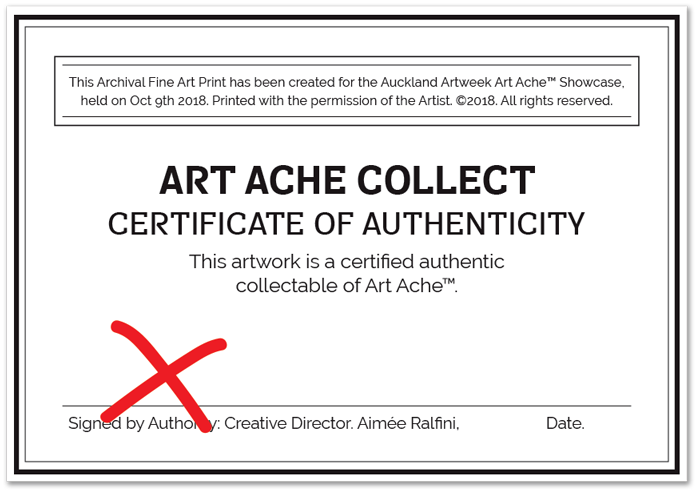 Art Ache Collectables Pricing structure:
Event Period: $60.00 each
Usual Price: $80.00 each
30 prints left: $150.00 – Current
5 Prints left: $300.00